Meet Wadoma Tribe: The Type Of Humans Beings With Just Two Toes (Photos)
Zimbabwe is known for many weird things, but the weirdest of them all is the Wadoma Tribe. They have only two toes. Doma as they are also called is one of the tribes that occupy the northern part of the country around the Zambezi river. They are especially known for hunting among other tribes in the country.
They are also known as Vadoma or simply Doma tribe and they speak Doma language. Doma is also similar to the Shona language spoken by Korekore and Tande Shona.
Referring to the history of the tribe, it is widely believed among them that their great ancestor came to this planet from a baobab tree. They are of the view that the man survived by gathering fruit when he appeared. This being reason they are known for gathering in the present day.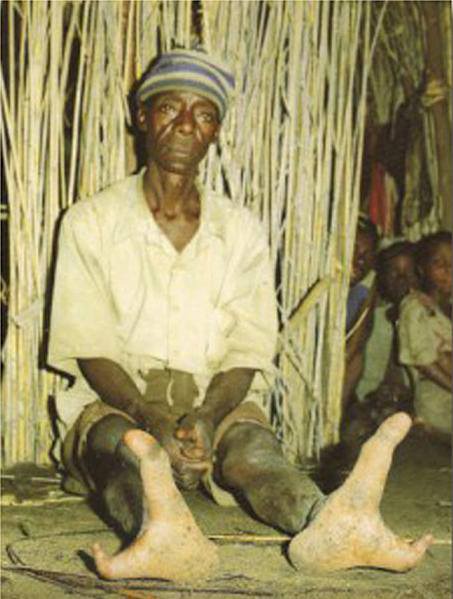 As for the origin of their name Vadoma, it is known as a people living at the bank of Zambezi river that is mystical. They are known for the act of performing magic and have the ability to disappear.
The tribe are predominantly nomads and their occupations are as follows hunting, fishing, gathering of wild fruits and grains, without having to til the land. In other words, they the only tribe in Zimbabwe that doesn't depend on agriculture. As for how they protect themselves from the environment, they only care about the rain. In that regard, they use thatches to cover their huts during the rainy season.
The Doma people are very secluded people and are naturally aversed to external intrusion. They could resist it with the last drop of their blood. This statement is invalidated by their action during the colonial era, the colonial masters wanted to merge them with the Korekore tribe. The history has it that the policy was vehemently opposed by
The tribe are attributed to a condition known as ectrodactyly. It is a condition where the three middle toes are lost to nature and the other coming together. For this reason, they are known as an ostrich-legged tribe. It is however worthy to note that their two-toed leg makes their tree-climbing ability easy. Of course, tree climbing is part of their daily hunting and gathering activities.
Although, the whole population of the Wadoma trbe is not 100% ostritch-legged, they are predominantly created like that and are accepted as normal people.